In addition to process equipments and plant components, Solution Bioforce can provide automation solutions to monitor and control the process. Various control technologies are available such as Distributed Control Systems, Supervisory Control and Data Acquisition Systems and the latest Edge Programmable Industrial Controller. We are a systems integrator for leading brands of DCS, PLC Scada Systems and a distributor of OPTO 22 automation systems in Malaysia.
DISTRIBUTED CONTROL SYSTEM AND SCADA
A Distributed Control System (DCS) refers to a control system usually of a manufacturing system, process or any kind of dynamic system, in which the controller elements are not central in location but are distributed throughout the system. A DCS may employ one or several operator workstations. Local communication is handled by a control network with transmission over twisted pairor ber optic cable. The input/output devices (I/O) can be integral with the controller or located remotely via a eld network. Instead of being hardwired, eld devices can also be connected via the latest communication protocols such as Foundation Fieldbus, Pro bus or Wireless Hart. Today's controllers have extensive computational capabilities and, in addition to proportional, integral, and derivative (PID) control, can generally perform logic and sequential control.
SUPERVISORY CONTROL AND DATA ACQUISITION SYSTEMS (SCADA)
An lower cost alternative to DCS is a SCADA automation system, It consists of a Programmable Logic Controller ( PLC ) with Input/Output modules. A local Human Machine Interface ( HMI ) or operator workstation provides an insight into the process which allows the operator to make parameter changes, perform startup and shutdown operations, generate production reports etc.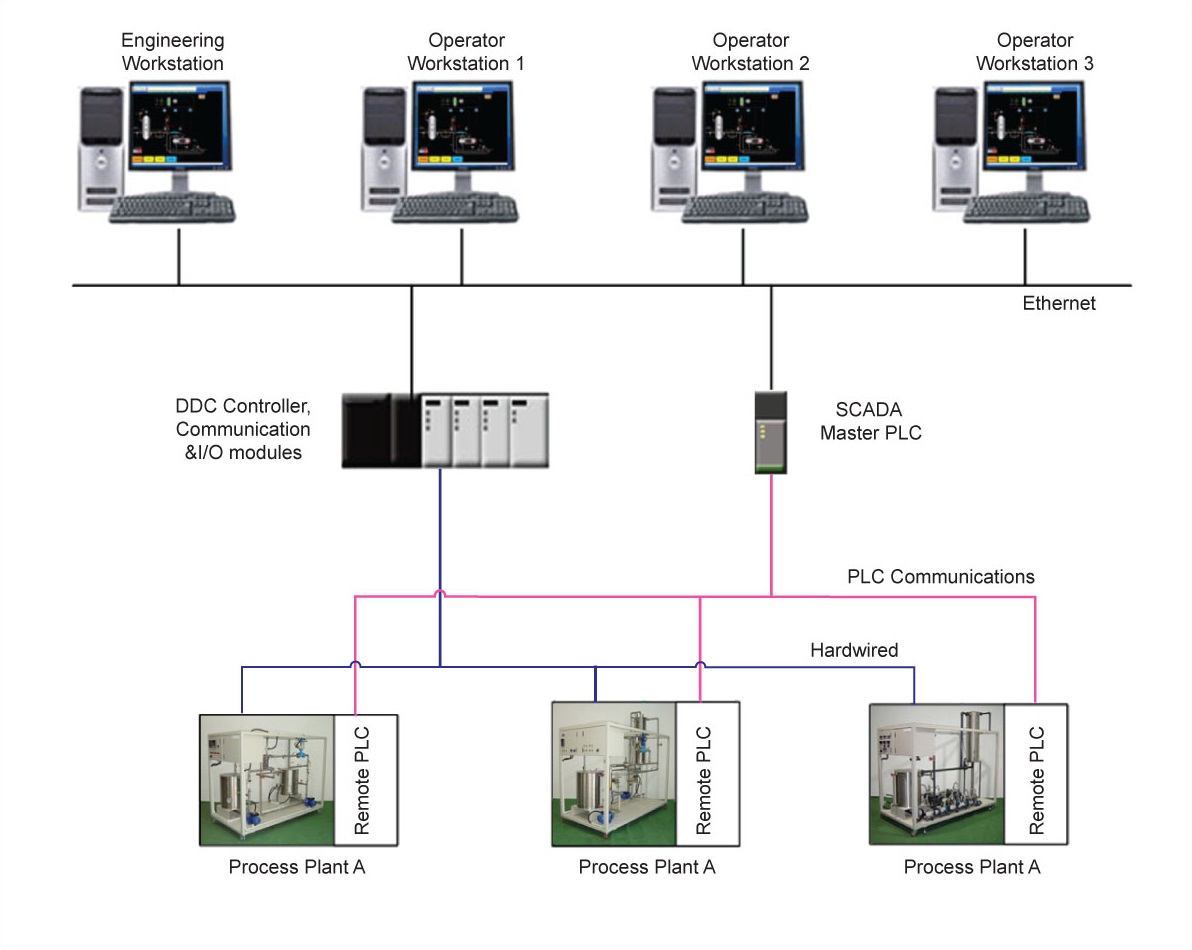 Figure 1: DCS / SCADA Architecture
EDGE PROGRAMMABLE INDUSTRIAL CONTROLLER (EPIC)
The latest and hottest automation system to hit the market with elements of Industry 4.0. Now you can collect, process, view, and exchange data where it is produced - at the edge of the network. When you work with data at the edge, you don't have to worry about latency, and you have one single source of truth.
Securely share data among databases, cloud platforms, web services, PLC systems, and other systems and equipment, using open, modern communication standards. Built-in security features include configurable device firewall, VPN, encryption, user authentication, and more.
Connect with legacy PLCs and much more using Ignition Edge® Onboard or full Ignition from Inductive Automation®. Move data efficiently, decrease network load, and reduce IT reliance by using MQTT publish/subscribe communications.
Visualize data on the controller's integral touchscreen, an external HDMI monitor, or from any web browser or mobile device. Monitor the process from anywhere at anytime without having to be in the control room.